With our main equestrian barn in The Woodlands, Texas, just 80 miles north of the Gulf Coast, we are all too familiar with the fury of a hurricane and the devastation it can bestow upon innocent victims; often times taking the lives of the animals that are left behind. We at Cavallo Creek know just how stressful an evacuation can be and want to do our part in assisting with the emotional process. While you are worry about securing your home and ensuring the safety of your family, let us concern ourselves with your horses and livestock.
We can offer full service emergency evacuation services to those in need. In most cases, up to the day before a hurricane hits, we can even pick up your animals. We offer round the clock care and will keep you notified the best we can via text message.
Custom built in 2007 out of steel and concrete by MWS of Magnolia, Texas, our structure is rated to 120 mph. In 2008 we provided a safe environment for 36 horses, a donky, 4 goats, 4 dogs and 10 horsetrailers. Although we lost about 35 mature trees, our precious lives inside
the barn were unscathed.
Hear what our hurricane clients have to say about us!
Cavallo Creek is therapeutic! Not only was my horse relaxed the minute we arrived, but I too felt at peace. There is such a positive environment.

- Suzi, Spring, Texas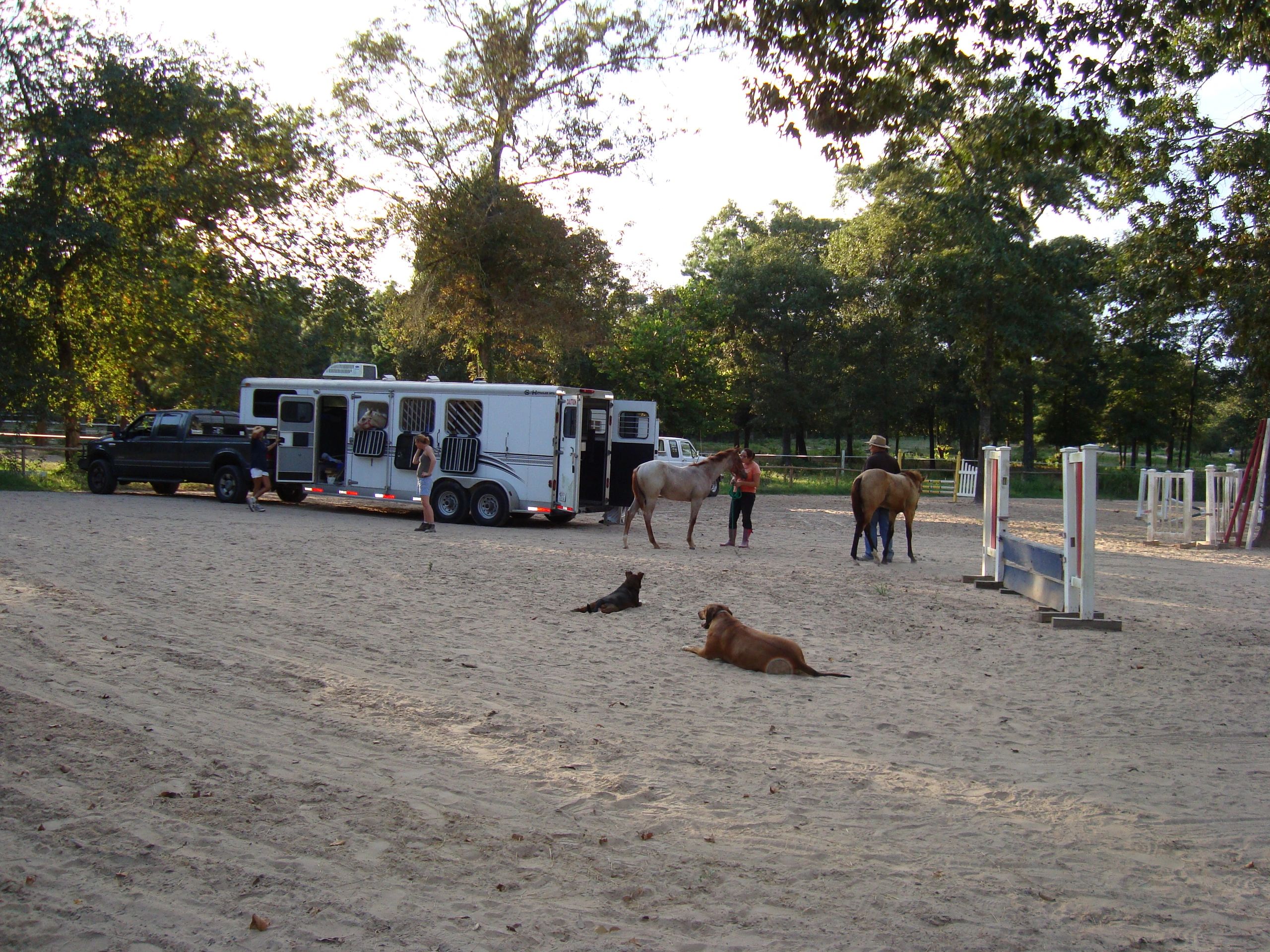 Cavallo Creek provided security during Hurricane IKE. Denise and her staff made sure that our horses remained safe and healthy. When the storm shifted and was headed straight for Houston, we didn't know what to do or where to go. Fortunately Cavallo Creek opened their doors as a livestock evacuation facility. They came and picked up or horses allowing us time to gather ourselves. Their immediate response to the upcoming emergency allowed us the freedom to be able to evacuate our family safely. It gave us peace knowing that our
horses were taken care of. They were up around the clock taking care of various animals, including goats, giving reports via text message for as long as contact was possible. She really cares about the horses and everyone she invites into her "home"!

Julie and Mike Robertson, Seabrook, Texas
Denise has high expectations of herself and has a determination to ensure things are taken care of properly.

- Leah Mediros, Conroe, Texas

Working with Denise gave me a sense of accomplishment. Things get done and that is a great feeling!

-Emily Wyrick, Montgomery, Texas